Blame Nigella Lawson. Blame Nicki of SuddenlySingleJourney.com. Blame Pillsbury for their current campaign (double box tops for education on the crescent rolls). All the subliminal — okay, blatant — messages encouraged me to get into the kitchen to whip up something sweet, something different. I admit, I questioned the flavor combination of chocolate and croissants, which are traditionally meant as a savory side at all of my family's holiday gatherings. Crescent rolls and turkey? Delicious. Crescent rolls and chocolate? Curious. So, I found myself looking for a cheap and easy option. Making croissants from scratch is arduous at best, and purchasing items from the bakery can easily get expensive. I grabbed a can of crescent rolls and a four ounce bar of semi-sweet chocolate. Here's what happened next…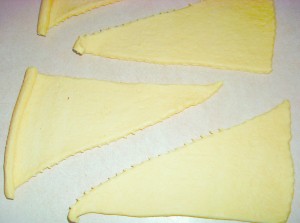 I unrolled and pulled apart the dough. Look at those beautiful perforations. 😉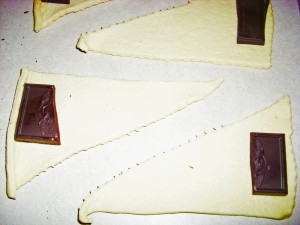 Then I broke off four squares of the chocolate and broke each square in half. I fought the temptation to eat the chocolate rather than place it on the dough.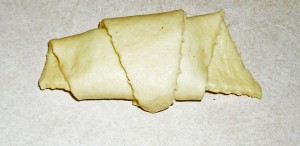 This was the nicest looking croissant. What can I say? The pieces of chocolate hindered my ability to roll a nice crescent shape. I baked them in the oven according to the directions on the package, tailoring the temperature to suit my overzealous oven's needs. While those baked, I took the other half of my chocolate bar and melted it in a metal bowl over a pot of simmering water. When the chocolate croissants came out of the oven, I let them cool for a few minutes while I finished melting the chocolate. Then…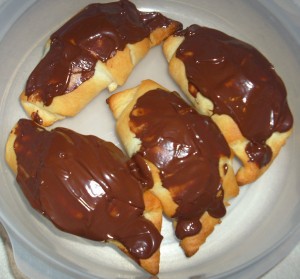 I iced the tops of the croissants with the melted chocolate. (This picture looked great without any photo enhancements — just look at the shiny, satiny chocolate!) I considered taking a picture of a halved croissant, but I'd bite into it and not want to take the moment to stage the rest of it. I don't know if I would do this on a regular basis because the crescent rolls were a bit more buttery than I would have liked, but they were quite tasty. I actually wouldn't mind filling them with pastry cream and icing them with chocolate to make a croissant eclair hybrid, though. And for less than $5, you have 8 delicious dessert pastries.